Let's face the fact, the whole travelling event can be quite hectic and stressful. Our main motive of having a holiday is to escape the irksome schedule of both home and work, but navigating through the airport just to catch your flight becomes more stressful part of the trip. Although, you cannot avoid the stress associated with the holiday travel, but these tips will certainly come handy in reducing the stress during travelling.
Plan Ahead
There are certain aspects of your trip which are not in your hands including – wintry weather conditions, crowded airplanes & highways, and distressed personnel. Believe that you will come across these difficulties and you cannot do anything to change them. Instead, what you can do is to concentrate on how you will react in these situations. The apprehension of the stressful circumstances and having a plan to deal with them will help you in reducing your stress levels.
Give Yourself Extra Time
No matter how you travel, make sure you have given yourself more time than you will ideally need while travelling. This is important especially on the heavy travel days such as holidays or some festival. On these days, everything will take extra time than the usual from finding a cab or check-in lines, so try and stay as calm as possible.
It is important you have extra time to deal with all those unexpected events and prevent yourself from going through anxiety and stress. You can opt to arrive at the airport early, remember reading your favourite auto magazine, while sitting at the airport lounge, is far more convenient than sitting in a cab and reaching the airport 20 minutes before your flight.
Have Some Contingency Plans
Think of some of the ridiculous and unexpected circumstances. Let us assume, you reach the airport just to find the parking lot is jam packed or there is dust storm heading towards your destination city. Prior to departing, make sure you have checked the weather conditions, traffic conditions, and other parking reports and having backup ideas, such as – leaving early or using a different mode of transport, will surely come handy.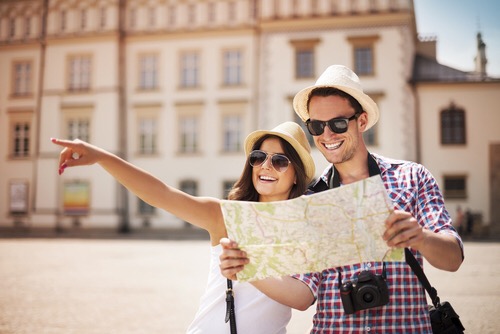 Visualise Your Travel Day
This means thinking of each and every single thing or detail of the day you will be travelling and the things you have to do a couple of days before you have to leave. If you have done this, it will really come handy to anticipate all the things you need to do. This could be as simple as helping you remember to keep your licence at a place where you can easily access it so that you don't have to fumble while going through the security check-up at the airport.
Keep The Kids Happy
If you are travelling along with your kids, you will want to plan for the distractions and amusements for long flights. Having innovative items to hand out during the intervals will be a good way to tackle the boredom and fussiness. Well, it is commonly found that kids are more stressed when they are hungry, so it is better you have carried snacks with you and don't forget to carry a bottle of water.
Make sure you are not depending on the meal provided on the airplane, it may not suit your kids' taste. Similarly, also plan while travelling on long highways or heavy traffic jams, this means you won't be having easy access to the food. Another benefit is that you will save yourself from being cranky owing to the hunger pangs.
Be Proactive
In the event you are not happy with the airline or hotel staff, make sure you don't keep telling them what is wrong, instead, you should tell them what they should be doing to fix the issue. You can also suggest an alternative solution; it may come handy in dealing & resolving the issue quickly.
Make sure you are aware of the fact that the customer service varies significantly across the globe. In most of the places, nobody will come forward and help you out, unless you are proactive enough to make it happen. If the situation is important, don't wait for someone else to correct it instead, go ahead and take action yourself.
Charge Your Gadgets
It is important your smartphone, tablet, laptop, or any other gadget, have enough battery, especially when you are going on long trips. It really comes handy when you land at the airport and you have to make a call or if you come across any emergency.
Make sure you have charged them the night before and don't forget to take the portable charger, so you can easily top up your smartphone or any other gadget at the airport. With the advancement in the field of technology, you can also buy a portable charger, trust me it will be useful when you need a little extra juice.
What do you think?