Winter is the best time to start planning for a new gardening season. Use the last cold days to measure the space you have available and prepare a watering schedule (especially if you don't have enough time or live in an area where droughts can be a problem). It's important to have an overall idea of what you want the backyard to look like before the actual planting and landscaping starts. Prepare big projects first and the rest will fall into place around them.
Wandering paths
Having stone pathways can make your backyard seem much more spacious and open. Using flat rocks will give it a more natural look, especially if the path is leading to a patio area. It's important to keep the garden around the pathways lush and rich. Make sure the paths don't intersect at a right angle and don't make them perfectly straight – they should look as natural as possible. Try to achieve a look of a path you would like to take to enjoy a calming walk.
Flower waterfall
This fun little ornament is going to be in every garden next year. It looks carefree and simple as if flowers just fell out of a pot and spilled over the ground. Get an ordinary pot in any store, or use an old cracked one if you want to achieve a rustic look. Plant the same flowers near the pot and inside it to create a spilling effect. You can trim the flowers a bit once they grow if you want them to look like an actual stream but an untamed look can be charming as well.
Planting for pollinators
Taking care of the environment isn't just a trend, but it's a responsible choice. Make sure your garden is integrated into the larger eco-system. If you plant strategically to attract bees and other pollinators, you'll be doing a great service not just to your flowers but to your whole community. Plant flowers in blocks, because bees make separate trips for each plant type. Have a couple of piles of leaves or a few wooden logs lying around (if done right, it could also be a decorative feature) and use native plants only.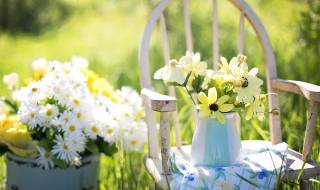 Fire
If you are planning to make parties in your yard, a fire pit can be quite useful. It takes a bit of work, but it's worth your while. Simple round design with a protective outer wall is the best option because it fits in with different surroundings. An important pro tip: make sure it's at least 25 feet away from any wooden structures or trees.
Outdoor kitchen
Adding an outdoor kitchen will significantly improve your patio – it will turn it into a place where the whole family will gather. A simple dining table, comfortable chairs, and a barbeque are the simplest choice, but it can go much further than that, depending on your budget and cooking skills. You can use vines to create a secluded corner free from interfering neighbors and any other disturbances. A small cocktail bar will make a weekend in the backyard seem like a vacation. Of course, if you plan to cook outside, make sure you have a green waste disposal system in place – JNS skip bins are both eco-friendly and durable.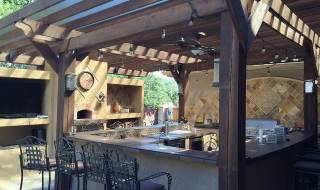 Think of the yard as the extension of your home and try to match its style with the one you have indoors. Also, try to remember that one attraction per yard is enough; don't make the place feel too cluttered. A simple and easy to maintain design is always the best option.
image credit: pixabay.com
What do you think?