I got introduced to crossfit very briefly when meeting one of my best friends for the first time. Seeing a Youtube video of the Crossfit Games got me so pumped, I really wanted to start right away. Unfortunately, the nearest gym took me an hour long drive. So I continued my normal gym routines, till the point I couldn't stand being in the gym anymore.
While doing my internship in Szeged, Hungary, I found the Crossfit Trec box. I wrote the founder, Endre to ask if it was possible for me to join his box, since I couldn't speak nor understand Hungarian at all. He encouraged me to come and take a look to see if Crossfit was something I would enjoy.
I still remember when Endre approached me after my first WOD, asking how it was. I needed to sit down while holding the urge to puke. After catching my breath, I told him he could expect to see me a lot more. I knew this was the lifestyle I was looking for. The feeling of doing a workout together with people you barely know, but still feeling you belong is one of the greatest vibes present in a crossfit box. After this experience I went to Crossfit Cargo, Ghent Belgium to introduce my brother to the concept. Surprise surprise, the same vibes of comradery was present in this box as well.
Now, who is Endre?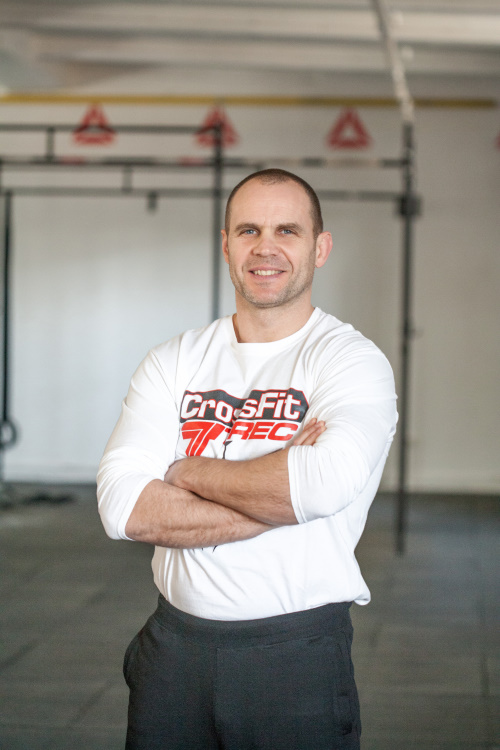 Ever since he left kindergarten he participated in diverse sports. From judo, scuba diving, ice skating, wakeboarding, skiing and finally, crossfit. We can definitely say that Endre likes to be busy! He has been doing judo for 30 years of which he spent 20 years as a competitor. All these disciplines told him valuable life lessons such as humility, discipline and above all, that you have to work hard to be successful. Lessons he took with him when pursuing his professional career as a lawyer, venture owner and awesome dad of 3 kids.
It's his lifelong goal to be as healthy he possibly can and become a role model for everyone that steps into his box. He came across crossfit during his search for a high-intensity training method. Meaningless to say, it was love at first sight when he set foot into his first crossfit box. According to him, the biggest difference between crossfit and regular fitness is that crossfit promises you sweating, sometimes vomiting and becoming part of a community of like-minded people. Besides making new friends, you become healthy on an overall level and build muscle while doing functional movements.
Crossfit will definitely become the future of working out according to Endre. A statement that's being backed by the number of boxes that are appearing across the globe. Globally speaking, a lot of people are struggling to incorporate regular active moments into their busy schedules. Choosing for fast food to not lose too much time of their day spending in the kitchen. Rather binge-watching an entire season of House of Cards or saying you'll do it tomorrow are all common excuses to avoid working out. But sitting behind your desk all day and failing to work out when coming home, can affect more than just your overall health. Establishing a regular exercise habit is even more important as we get older since it can slow brain aging by as much as 10 years.
How regular exercising can prevent dementia
Australian scientists conducted a research on the benefits of regular weightlifting (preferably high-intensity workouts). This in relationship with the ability to let your brain work better AND preventing dementia. By 2050, an estimate of 135 million people will develop dementia. So making the research key in proving the cognitive benefits of weight training. The benefits of regular exercising even lasted 12 months after the initial study!
"What we found in this follow-up study is that the improvement in cognition function was related to their muscle strength gains. The stronger people became, the greater the benefit for their brain." – Dr. Yorgi Mavros, of Sydney University.
Overall benefits from doing Crossfit
Seeing people progress, is what drives Endre to further optimize his box, equipment and service. He genuinely wants them to be happy and get them to understand that crossfit will help them living a healthy life.
With the help of Endre, I bought the necessary material to get started with my own garage box. And right now, I'm a couple of weeks into sweating like crazy, almost vomiting, getting out of breath, feeling sore, … But also getting to know my limits, getting stronger, discovering more about crossfit and the best of all, strengthening my own mental state.
Crossfit isn't just about getting psychically fitter. The mental stamina you're developing while working out is so strong, I strongly recommend everyone to give it a try.
Thank you Endre for being such a huge source of inspiration!
What do you think?