Nowadays downloading music on your mobile has become a trend for most of the youngsters. But as well are aware it is quite difficult to download music directly from the internet. If we remember the procedure to download music via internet; foremost, we had to download the song from internet on desktop and the transfer it to our mobile phones. I am sure you know how irritating it was. But do we have a solution to this?
Well, the answer is sure shot YES!
Recently, Android market has released new free music downloader application on Google Play Store. They are working amazingly well for all the interested users. You can download almost any song of different artist and movies.
So, let's discuss the top 5 Music downloaders apps for Android
Radio Player By Audials
Radio Player By Audials is no doubt one of the best radio application for Android with almost 30,000 radio stations from all over the world. You can listen to them as and when you like. The most amazing thing that can be noticed about this application is that it also allows you to record your favorite music anytime you want. Therefore, you can take this app as a music downloader as well.
A very well designed application with extremely new features, EQ controls and ChromeCast support. It also enables you to schedule recordings for an automatic supply of fabulous latest music from your favorite radio stations.
SoundCloud
SoundCloud becomes one of the best music downloader application with around, thousand of music collection and regular updates of 12 hours of audio every minute. It has been entertaining people with excellent music stock for years now.
Since, last year SoundCloud is putting a subscription policy on their users and are planning to include one more subscription policy by this year. But for now it is totally free.
There are many songs that are not available for downloading but most of them are. It is a great independent song downloader that is ruling the hearts of many across the world.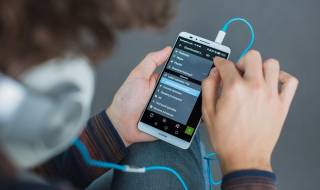 4Shared
Though the app contains an old school look, it is worth downloading latest music anytime and anywhere you want. The last time we checked on this application, there were 5, 965, 819 tracks. The app searches for latest music and artist that are unknown to most of the world. You can directly download and save the music in 4shared cloud, where you can listen to music offline. For sure, it is a very music downloader.
RockMyRun
Rockmyrun is yet another application that allows you to download song and match to your heart beat. It only gives you Dj – mixed soundtracks for workout. The app automatically changes songs according to your heart beats. It is the most loved music downloader or we must say music streamer. It has been able to top the Android market with its exclusive features and fabolous user interface.
Final Words About Music Apps for Android Phones
These are the top 5 music downloaders apps for Android devices. They all are compatible with ChromeCast support and allows you to download unlimited songs as and when you want. What more can we ask for?
What do you think?