Training your pet can be fun and difficult at the same time, but, only if you are able to motivate them and get them to take training seriously. It is going to be challenging to find the right motivators for your pet, especially if you want to shorten training time as much as possible. Keep in mind that not every dog will respond to motivators in the same way. In other terms, what might be good for other dogs might be aggravating to yours.

Have Their Success Drive Them
Although it is easy to motivate your dog with the help of various treats, it will be a good idea to help them develop a sense of achievement and self-determination. Not only will they be more willing to participate in training, but they will want to be more successful as well. Furthermore, they will start to listen to you more, and in the long run, it will ensure that their training is done well, and without any major issues. Once your dog is finished with it all, they will feel more appreciated as well, which will, in turn, raise their determination even more.
Positive Reinforcement
It might seem pointless to talk to your dog since they cannot understand us, but showing them just how proud and happy you are when they finish a task is a necessity. Your pet understands what kind of message you want to convey, and if they do something good, positive reinforcement is necessary to encourage it in the future as well.
Treat Your Dog with a Toy
Everyone loves receiving gifts, dogs especially since you are openly showing affection towards them. Nevertheless, the toys you give them should have either some kind of meaning or made especially for them. This way, your little furry friend will understand that they are loved and not just treated for good behaviour. Make sure to only create toys, which will benefit your dog's training in a way, which could further motivate them to be better, and to try their hardest.
Give Them a Tasty Treat
Perhaps the oldest way to reward your dog for good behaviour is to give them a treat, which can be a good method to create mutual trust as well. You should give your dog treats only when they deserve it so that your dog understands why the treat is given. Moreover, focus on giving out quality treats you can find in your pet store, to ensure that your puppy gets the message.
Lack of Awards as Motivation
You can create a sort of fear-hate relationship with your dog, meaning that they will be afraid to make a mistake or you could get mad at them. Even though this method requires avoiding treating your dog completely, it is great for those who seek to instil maximum obedience. In the long run, your dog will be bent to your will, and less demanding of treats as well.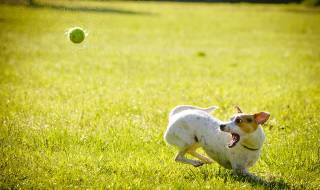 Depending on the type of the dog you have, it could get easy to motivate them for training or you could end up tearing your hair out. Bear in mind that it is imperative to find a common language you can use, and help your furry friend undergo training with more ease. No matter which method you opt for, you need to show love and compassion towards your dog. Otherwise, they might understand the training as a form of torture and they will gladly do anything in order to avoid it.
image credit: pixabay.com
What do you think?