Lighting plays a very important part in modern homes. Lifestyle statements reflect by means of the lighting solutions that are used in a home. Lights can be adjusted according to various moods and occasions and there are myriad of options available in the market that enables the lights and the decorative pieces to simply blend along with the rest of your home. Unlike older days, lights come in numerous types, shapes, colors and all importantly there are LED lights also which are energy saving lights that automatically enhance the aesthetic value of the house and in the longer run saves on utility bills, energy bills and are extremely eco friendlyy. This is the modern age and hence peopleare raving about the utilization of the LED lighting in most of the houses nowadays.
FEATURES:
A light emitting diode (LED) is a semi conducting device that is used for emitting light and this occurs when electricity passes through it. The light that is emitted is not too bright and at the same time, it is often monochromatic. This happens at a wavelength. This is extremely useful in preserving the energy resources and hence are advocated for their eco-friendly nature.
Earlier LEDs were used in cars and restaurants. These were mostly ornamental pieces and had found their way in the exterior lighting applications too. However, of late, LED lighting solutions are being used in the homes to create a fuse in effect and to enhance the overall look of the interiors. There are regular LED bulbs and the other decorative LED lighting options in the markets today. Although these are expensive than their other counterparts, yet the advantages of these offer are much more than the usual lighting options.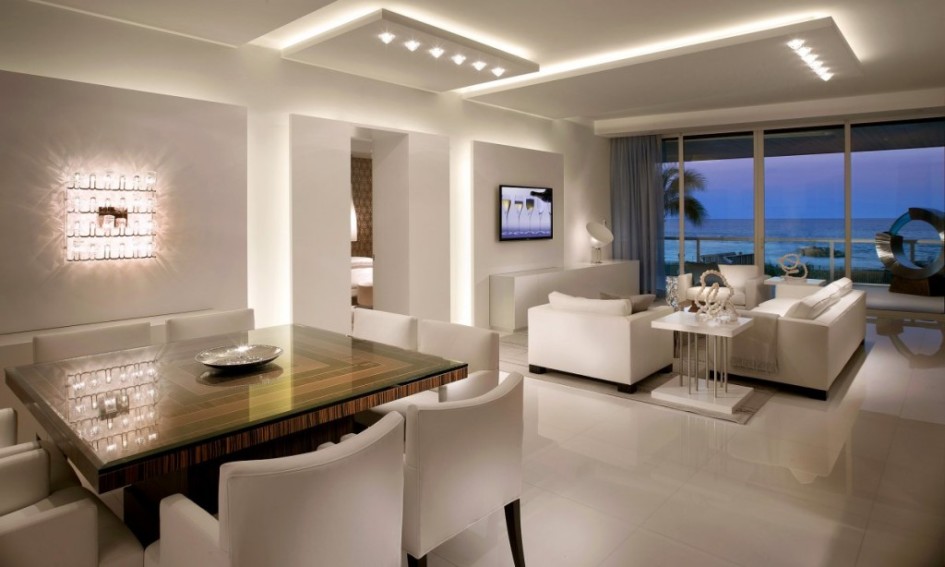 BENEFITS OF LED LIGHTING
DESIGN FLEXIBILITY:
LEDs are available in any color right from the violets to the pastel shades or the warm whites. You can pick and choose from what your tastes and preferences are as far as the look of your residential or commercial space is concerned. It can be combined in any shape to produce highly efficient illumination.
LONG LIFE:
Interior designers and architects used to untie the look of an LED lighting in high end hotels and commercial as well as office spaces. Time and technology have brought about winds of tremendous change where we find ourselves at a point when LED lighting is used in the interior spaces of homes. Recessed ceiling lights are a recent trend which are difficult to place and LED lights are preferred here due to their lifespan other than the ambient lighting that these provide. LED lights in such places need not be changed as regularly as the conventional lights.
NO NEED OF SPECIAL WIRING:
LED lighting in home decor as well as for commercial and office spaces use regular wiring. However, some regulated systems have to be in place for these to be in control gear shape and the flow of electricity to happen on a regular uninterrupted basis.
ECOLOGICALLY FRIENDLY:
LEDs are free of toxic chemicals. These are 100% recyclable, and helps to reduce carbon. This proves a big step toward a greener future!
EASY INSTALLATION:
The control gears for LED lighting are very easy to acquire and install. These are like power supply units but on a smaller scale. These will need a space in the house that can be accessible for maintenance. Recessed ceilings or at stairways, sometimes in controlled panels or wall spaces, the LED lighting control gear has to be installed at a place that is water resistant.
Due to the above benefits of a LED Lighting that's why we believe to have plenty of good reasons for being passionate about the quality LED lights.
What do you think?