The music industry is changing. The way music is distributed to the audience has constantly been changing in the past decades. We went from vinyl records to tapes, from audio tapes to CD's, from CD's to digital audio forms like Mp3 files on iTunes and yet streaming through Spotify, Tidal, iTunes Music and there's many more competing music apps available.
Music is reaching its digital maturity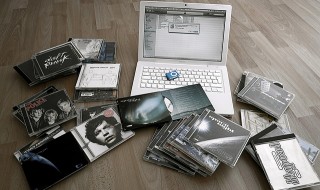 People no longer own CD's. Most active music enthusiasts have already imported all their bought CD's onto their digital devices a few years ago. Now even that is old news. Streaming is hot right now. You don't have to own any specific sets of songs anymore. You basically own all the music you want. All you need to do is tap it, and the music starts playing over your Internet connection. Anywhere, anytime. Isn't that fantastic?
The music industry reaching [tweet]new digital heights opens new business opportunities for artists and record companies.[/tweet] New ways to reach listeners unlocks new marketing strategies to bring new music to their ears.
Digital Disruption in the music Industry
Over the last decade, we've seen the US music sales decline by 42% from the $32.8 billion in revenues seen in 2000. That's basically what always happens when an industry is confronted with new technology. But the Jay-Z and Samsung 5$ million deal back in 2013 changed music distribution strategies forever! Let me break it down real quick.
Rapper and multi business-owner Shawn Carter, a.k.a. Jay-Z made a deal with Samsung Mobile. 1 million copies of Jay-Z's new album, Magna Carta Holy Grail, were given away on July 4th, 2013 at one minute past midnight (0:01 am). That was actually 72 hours before the album officially went on sale on all other platforms. The Korean mobile company has paid $5m so that the first million owners of Galaxy S III, Galaxy S4 and Galaxy Note II devices to claim the album through a free app from the Google Play store get a three-day headstart on the rest of Jay-Z's fans. That's a genius move, from both Samsung and Shawn. Samsung encouraged Jay-Z fans to buy Samsung devices and Mr. Carter's album went platinum before it was released! What happened is that the RIAA was forced to deal with the situation and make significant changes to its gold and platinum awards programme. This is simply nuts and disruptive.
Expect More Music Distribution Disruption to come
In 1999, the music industry squeezed a total annual revenue of $27bn. The sales were mainly CD and album-driven, single releases only making up 4% of that big number. The biggest album sale back then was by Backstreet Boys and they sold more than 20 million copies worldwide. It's the same year that Napster came in the picture. Piracy started threatening all media industries and today they came up with new ways of delivering music, series and movies without letting users own the actual media. Does Netflix ring any bells?
What do you think?